Lending platform
Product/UX

Building a lending platform.
When I joined the product team, there was an established onboarding journey for intermediary users. They could get a quote and submit this to our internal teams to review and progress from there. We had the beginnings of a platform our users could manage all their deals on.
With our new regulated product launching soon, we wanted to build our first digital MVP platform right, meeting our intermediaries needs and opening up business to a new group of customers.
PROCESS
① User research
② Research synthesis
③ Problem statements
④ Personas, JTBD & actor mapping
⑤ Lo-fi to hi-fi journeys
⑥ Usability testing and feedback
USER RESEARCH
I led the research on this project, recruiting existing intermediary customers as well as potentially new customers, finding help with intros from our BDM team and industry connections. We were aiming to speak with people with prior regulated bridging experience.
My Product Manager and I set out on the road and met with participants at their offices, over zoom calls and in person in our office. Armed with little incentives (free coffees and amazon vouchers) we were lucky to get time to uncover insights with our desired users. We conducted 6 interviews, and recorded sessions to share with my team using lookback.
RESEARCH SYNTHESIS
After notetaking into trello, we starting clustering our notes into relevant topics. Starting in trello, and then externalising these notes to post-its up on the wall.
Trello board filled with insightful research!!
After our synthesis session, we had a clear idea of the clusters we could form insights from.
Close up of (plenty) pain points we discovered.
PROBLEM STATEMENTS
After discussing with the wider stakeholders and identifying areas where we could solve for, we formed problem statements we were excited to solve for.
PERSONAS, JTBD & ACTOR MAPPING
After speaking to actual users of products like this, we had ample research to create useful resources for the team as we progressed. I believe it's important to constantly share research throughout a project and build the teams shared knowledge up as we go. It felt great to have team discussions where we made stronger decisions together.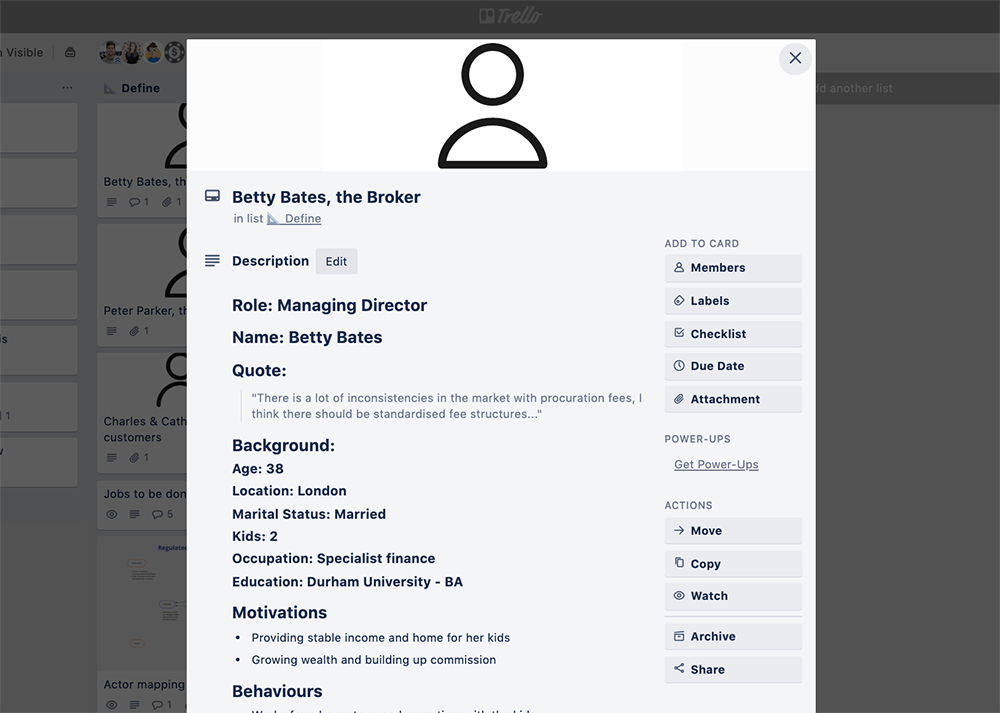 One of a few personas we socialised with our team and stakeholders.
Job's to be done exercise.
The product is niche, so an actor mapping exercise helped us to see how we fit into the overall journey.
LO-FI TO HI-FI
I really enjoy fleshing out ideas on whiteboard first, socialising designs with my stakeholders and team. Below is the beautiful mess that helps us get to great!
Some of our lo-fi journeys plastered up in the project room.
Italo the legend, taking a needed break from sweating over code all day.
USABILITY TESTING & FEEDBACK
After we had a great hi-fidelity prototype of our core decision in principle journey, it was time to test and validate our decisions with our research participants. We wanted to make sure their needs were met and gather their thoughts to feedback to the team. I'm a firm believer that users can help you build great products, so by this point we had developed a strong relationship and open communication with our research participants.
I ran several usability sessions, with tasks we asked them to perform using a clickable prototype. After recording and gathering insights from these sessions, we played back the journey for stakeholders and the team and played snippets so people could here it from the user's mouths!
We found some pain points in the journey we could improve, but on the whole, the platform was very intuitive and simple to use. What surprised us was most of the feedback was concerning the product offering. This helped the business identify how to shape it in a way that would hit the mark with our users.
THE SOLUTION
The platform is in development as I type!!
View prototype︎

THANKS TO THE DREAM TEAM
Precious Ene
,
Aviel Shtrik
,
Stuart Wilson
,
Italo Moraes
,
Bob Vickers
,
Stephen Ball
,
Ryan Mukanganise
,
Sergey Yanovskiy
,
Matthew Tooth
,
Andy Cater
,
Meenakshi Choudhary
and whoever I missed out I apologise in advance!!
︎ Back to top