Product picker
Product/UX


Building a tool that wisely directs customers.

Relationship managers spend a lot of time educating and matching clients to products.
Since opening up our product offering, we started to understand our customers needed some guidance on the best product for their needs. They would often call up thinking they needed one product, but were often advised to use a different product.
How could we help customers to the right lending product and quote without having to call up?
THE PROCESS
① Stakeholder dicovery sessions
② Defining the products
③ Question brainstorming
④ Prototyping questions
⑤ Prototyping with logic
⑥ Testing
STAKEHOLDER DISCOVERY SESSIONS
We met with the relationship managers who talk with direct borrowers every day. Their insights helped us frame the problem and understand how they
pick
products for their clients. After a few discovery sessions we began to better understand the way they communicate with prospects.
DEFINING THE PRODUCTS
The lending products had to be well defined. With help from our stakeholders, we started to build an informed picture of how they fit products to customers. It wasn't as clearcut as we thought. It had a lot to do with what their project looked like, their security property and what stage of the project they were in.
QUESTION BRAINSTORMING
Now that we understood more about how our stakeholders onboarded customers to the products. We began to frame questions. We shadowed stakeholders to learn about questions the customers could answer, and find out how to structure these questions in a logical way. Not only in a way that benefit us but also in a way that would best fit the customers mental models.
Whiteboard gold after one of our sessions with stakeholders.
Once we had a strong set of questions, we structured them in different ways and tested them with internal staff who knew enough to be able to make up a borrowing scenario.
We landed on a great framework of questioning. First we ask about the project, then the security and then the loan itself. We believe customers know exactly what they are setting out to do, what they can secure it against, but the loan itself is a bit trickier. This framework allowed us to rule out products as they told us more.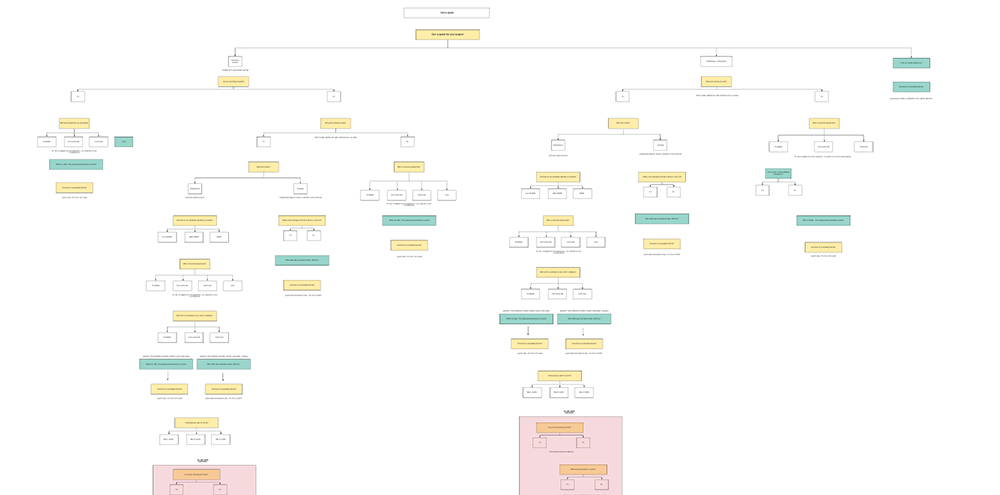 This was how the question branches worked out, depending on what they told us, and the answers they gave, this is how we worked out a quote and which product we'd suggest.
PROTOTYPING QUESTIONS
We had a lot of fun trying out prototypes to get to a great solution. See our marvellous iterations below!!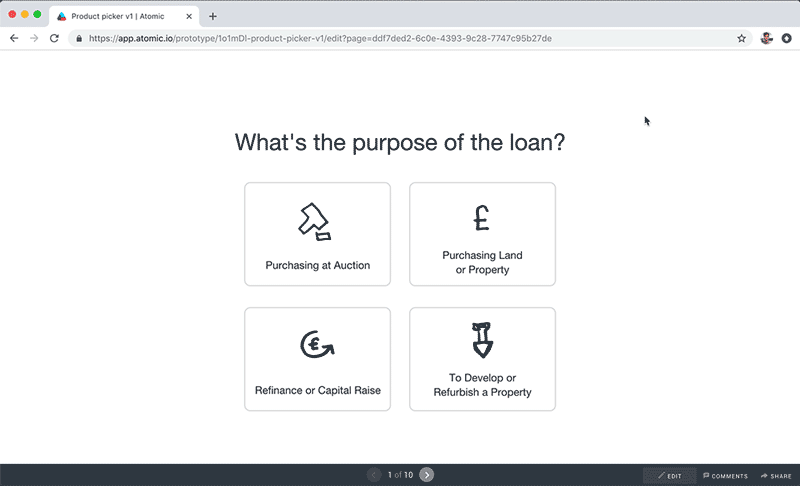 Exploring the flow structure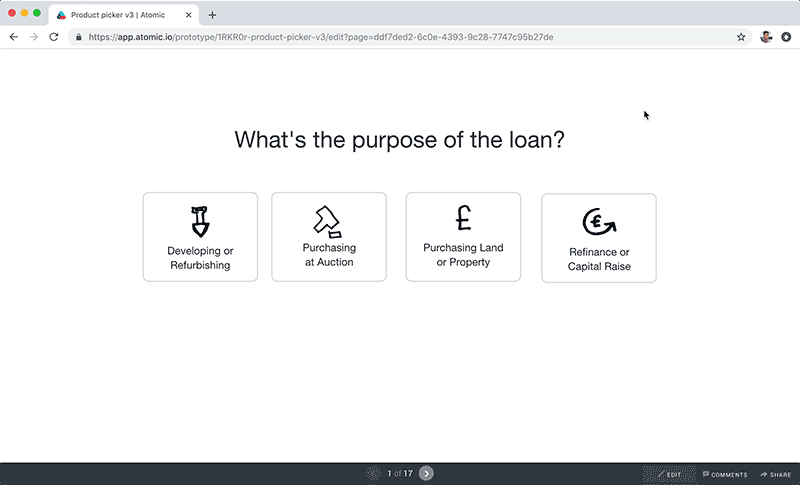 Loading states and better question structure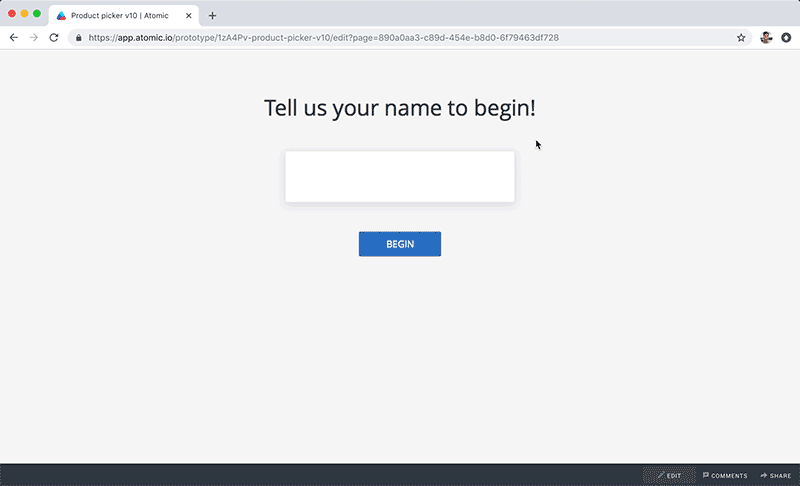 Starting to bring it to a higher fidelity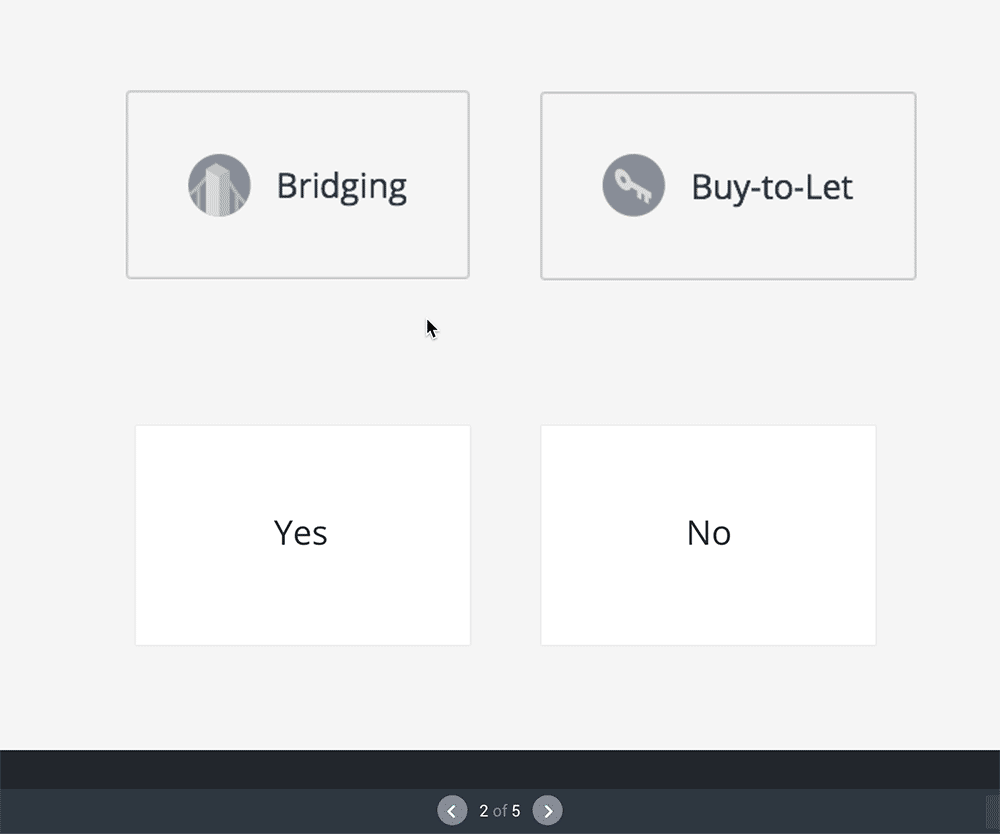 UI interaction exploration
UI and page context exploration
PROTOTYPING WITH LOGIC
Collaborating with the talented
Priyesh Shah
we started putting logic into our Atomic prototype, this let us test it with people and start to get products and quotes playing back for them.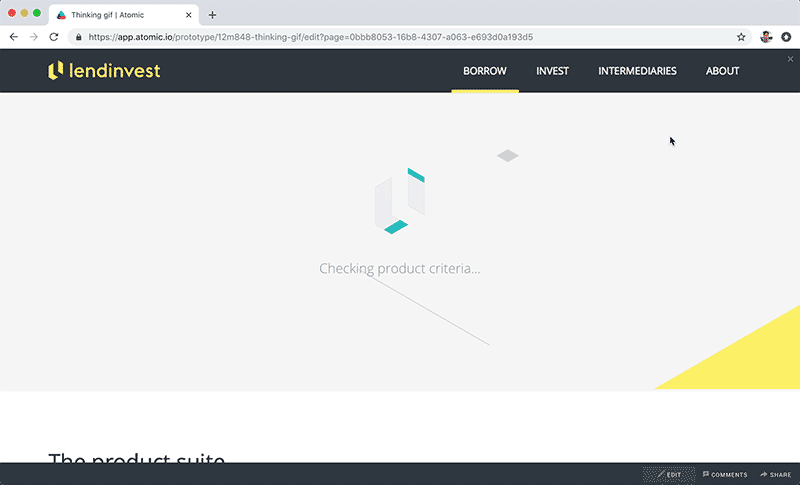 Loading state exploration
Later during our unmoderating testing with users, we linked it up the prototype with zapier to track usage. So much fun!!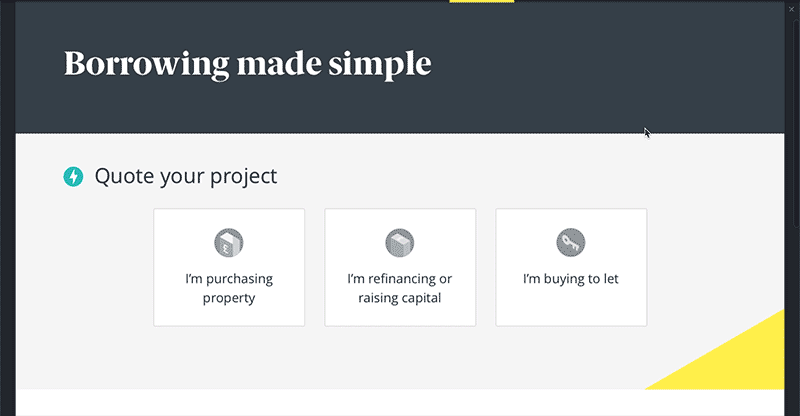 A hi-fi prototype we tested internally and externally.
TESTING
We tested this tool internally with 20+ of our staff. It helped shape the tool into something very human and usable.
Scenarios and tasks we set for in usability test sessions.
After internal testing we reached out to 80+ borrowers to run an unmoderated testing session. We had it tracked so we could analyse their journeys and see if how they used the tool. We also had conversations and gathered feedback which helped shape it into a more useful tool.
TRACKING POST LAUNCH
After launching we added tracking which gave our teams great insight into what our customers wanted from us. We could see how they answered questions, how much they wanted to borrow and other metrics which helped us understand the users more and better shape our experiences.
THANKS TO THE DREAM TEAM
Hats off to the amazing
Priyesh Shah
,
Italo Moraes
,
Stuart Wilson
,
Audrey Libert
,
Bob Vickers
,
Tom Madden
,
Leanne Smith
and those I forgot to mention, I'm sorry in advance!!
︎ Back to top